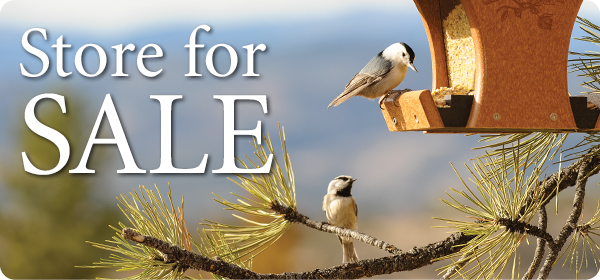 I'm Planning My Retirement!
But I need to find the next great Wild Birds Unlimited store owner first! I'm getting older and have made the decision to retire, right AFTER I have found a perfect new owner for my shop. I want all of my wonderful and faithful customers and friends to know these four things:
I am NOT going out of business.
I will be here for you and continue to operate my shop until I find the right buyer for it.
I am going to find the best buyer I can, who will love you and the birds and the business as I have over the past 4+ years.
Only after that will I retire, even if it takes a little while!
How you can help
You can help me by sharing this news and telling friends, family, or acquaintances who might be looking to own their own business, and who would love sharing a passion for the birds. My store is an established, successful, and profitable business that has a great staff and vendors in place, in a brand with an excellent track record, and with a large and loyal customer base.
I have LOVED owning this store and getting the chance to meet all of you while sharing my love of the birds. But we all reach new phases in our lives and I want to get the wheels turning to start my retirement years. I hope to travel some, but I also just want more time to enjoy the birds right in my own yard.
If you know anyone who would like to:
Turn a hobby into a business
Feel pride in running a local business which is engaged in the community and employs local people
Gain satisfaction from providing creative and educational opportunities for faithful customers
Experience joy from bringing people and nature together
Work for themselves with flexible hours and have fun at the same time
Please share this information with them! Then tell them to contact me at the store at 703-753-SEED or via email at [email protected] .
Thank you again for all your support and participation in such a wonderful hobby. Happy Birding!
Mike Larson
Owner, Wild Birds Unlimited of Gainesville, VA
---