7998 Crescent Park Dr.
Gainesville, VA 20155
Located in the The Marketplace at Madison Crescent, three doors up from Brooklyn Brothers Pizza

703-753-7333
Serving You Today Until 6:00 pm
| | |
| --- | --- |
| Monday | 10:00 am - 6:00 pm |
| Tuesday | 10:00 am - 6:00 pm |
| Wednesday | 10:00 am - 6:00 pm |
| Thursday | 10:00 am - 6:00 pm |
| Friday | 10:00 am - 6:00 pm |
| Saturday | 10:00 am - 6:00 pm |
| Sunday | 12:00 pm - 5:00 pm |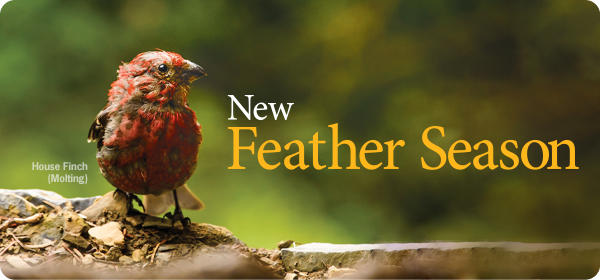 Offer the right foods during molting season and help birds as they replace their fallen feathers.
Feathers are amazingly tough, but they do wear out and need to be replaced. Most adult song birds molt (shed) and replace their feathers once a year. Be sure to keep your feeders well-stocked with the high-fat and high-protein foods that will help them grow new feathers.

Winging It On Vacation
It's summertime and vacation season is here. If you're just in the backyard or taking a trip across the country, John and Brian are sharing resources to help you find birds wherever you are. Whether you're looking for birding spots or need ID help, this episode will inspire you to go out and see more birds regardless of your location.
Click here to listen to this episode.
---